Tax | Rates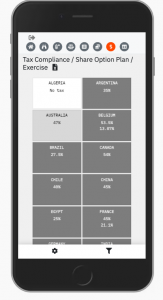 Tax rates from all around the globe, all available to you via our app. Rates are constantly updated and consistently accurate. Developed for the share plans market, you can see at a glance the key tax issues – income tax, social security, withholding and any special tax data you need to know. We can also provide tax rates data to businesses to incorporate within their own systems – this is vital for share plan administrators, advisers and companies.
Global tax rates at the touch of a button
Constantly updated, and delivered in the formats you use
Talk to us now about our Tax Rates service
We are already talking to businesses about how they can use the data, and especially about integrating the data into their own systems. Please get in touch with us now to see if we can build in the features your business needs. To access tax data via our Share | Compliance app, see our prices below, shown either as stand-alone tax data or combined with our legal compliance information.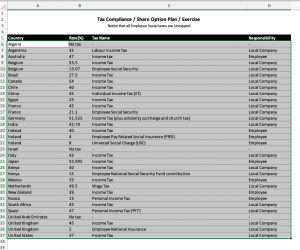 Tax Know-How
Self-service overview of key tax headlines – stand-alone tax information
€99
per country per year, no minimum fee/set up cost
Headline tax data for standard award types
Maximum tax rates, income tax, capital gains tax
Compliance Plus
Personalised set up on the app with award types tailored to your plans & full app functionality
€349
per country per year. Minimum €5,000 per year (includes up to 10 countries)
All Tax Know How features plus:
Detailed legal reports for each country
Feasibility table (for country and issue comparisons)
Key tax information for each country
Compliance Premium
Personalised set up on the app with award types tailored to your plans plus relationship manager support
€499
per country per year. Minimum €15,000 (includes up to 20 countries)
All Compliance Plus features plus:
A dedicated relationship manager (1-2 hours per month)
4 hours content training annually
Access to legal consulting on your Plan structures
Annual ShareReporter virtual conference